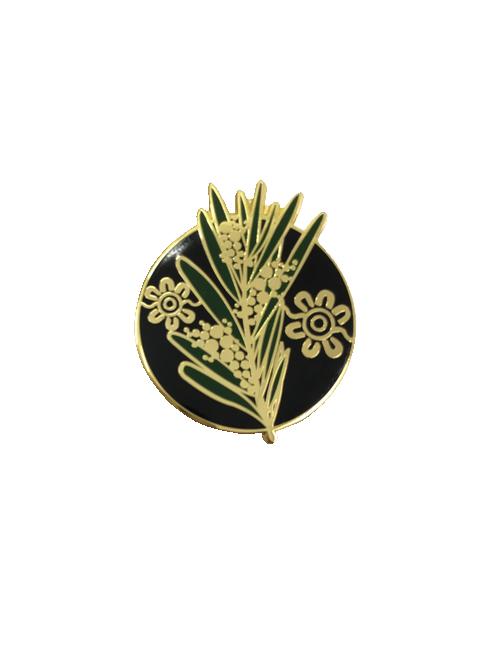 Unity Pin
Unity Pin
Wearing the Unity Pin represents your commitment to a brighter future for all Australians.
Art by Allan Summer
Inspired by the Aboriginal people who have walked this great land since the very beginning, the Golden Wattle symbolises their deep spiritual connection with nature that is still present today. Our Aboriginal Australians share the virtues of resilience and sustainability with this native flora.
Generations of Aboriginal people have used the Golden Wattle as a nourishing food source and for its healing medicinal properties.
Through acknowledgment of the wrongs of the past, we can begin to heal and build a future where the people of Australia walk together with reverence and unity.
Made from high-quality hard enamel with yellow gold plating and a detailed backing card, this lapel pin is not only a beautiful and meaningful gift, but a symbol of hope for our future.
About the Artist:
The Unity Pin has been designed and developed in collaboration between Australian Aboriginal artist, Allan Sumner, and 100% Aboriginal-owned business, Ochre Dawn Creative Industries.
Born in 1975, Allan is a descendent of the Ngarrindjeri people who come from the lower Murray and the lakes of the Murray River along the Coorong of South Australia. He is also a descendent of the Kaurna people from the Adelaide plains region and the Yankunytjatjara people from central Australia.
In addition to being an established musician, Allan is also an accomplished visual artist and graphic designer.
Since losing his father to cancer, Allan has had a passionate interest in Dreamtime Stories, spending valuable time with his Elders.
Retracing ancient art forms, Allan communicates the stories, passed down from generation to generation, through his contemporary art pieces.
Product Details
The product includes a Unity Pin and descriptor card telling the meaning and story of the Unity Pin and the Artist, Allan Summer
Size: 9.5cm x 6.5cm (with card) 2.5cm x 3cm (without card)
Gold-plated,hard enamel and high-quality lapel pin
Following its recent launch in December 2016, a number of organisations are already purchasing them for their teams, customers and business partners. It hoped that the pin will be worn by many people across Australia, promoting a message of hope for the future of our country - "Walking together in unity".
Due to precautionary measures, please expect delays in delivery.
Code: AD112